Hunting & Fishing in
the Upper Peninsula
MONDAY THROUGH FRIDAY, 3-7 PM
The Outdoor Show is a unique variety radio program hosted by Adam Carpenter. The show has an outdoor theme that is the cornerstone element of the program. However, the show also highlights music and popular sports topics. The outdoor reports are concentrated on local and regional reports with an occasional national interview or topic.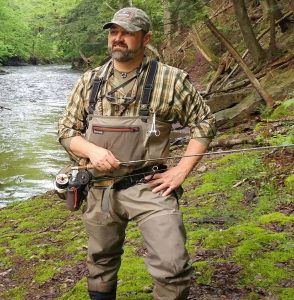 About Adam
As an avid outdoorsman, Marquette, MI quickly found a special place in his heart. Surrounded by a plethora of public lands and waters, Adam enjoyed tremendous success pursuing his hunting, fishing and skiing enthusiasms. Adam later moved downstate to pursue his career, but in 1999, moved with his family to Marquette and has been there ever since raising three daughters and entrenching himself into the community.
Adam has appeared on many televised outdoor programs including multiple episodes of Buck Lavasseur's Discovering. He also has participated as an instructor on numerous occasions in the "Becoming An Outdoor Woman" (BOW) program sponsored by the Michigan Dept. of Natural Resources. He's also a founding member and lead singer for Chasin' Steel.
More from the mediaBrew Network